For once I come to praise Ferguson, not to bury him.
Peterborough United are bottom of the Championship following their 3-1 defeat at Newcastle. Darren Ferguson, as happens to managers at the foot of the table, has parted company with his employers. But it is a decision only mitigated by the fact that Sir Alex's son is certain to get a further crack, and soon, at being a manager.
The capriciousness of football chairmen knows few bounds. Darragh MacAnthony has invested in the club and would have been hoping for progress. And that is exactly what he has had under Ferguson.
Fergie junior will rise again not because he is his father's son but because he took over a side in League Two and won successive promotions. Last season the club from London Road held off the challenge of an outfit from Elland Road, a remarkable achievement by any standards.
He built his team around signings from the non-League game, such as George Boyd, Craig Mackail-Smith and Aaron Mclean, the latter two resonating among Fleet Street subeditors anxious to spell their names correctly as they cropped up in seemingly every lower-division round-up.
Naturally, other clubs looked enviously at Posh's good fortune in finding such a promising manager, and to fend off Reading, Ferguson was given a new four-year deal in the summer. As a result he should receive a hefty pay-off, but what he should have received is time. Yes, Peterborough are bottom and four points behind Plymouth in 21st, but the position is far from irretrievable. Posh have scored more than the team in 13th, Crystal Palace. This is a famously tight division, with little to choose between teams and no cause for panic.
Football management is often seen as a job that rewards failure, with perennial washouts such as Bryan Robson and Peter Reid, or the late Alan Ball, picking up post after post. I felt an awkward shiver on Sunday seeing Reid on the Stoke coaching staff.
Worse than that merry-go-round is the treatment of young managers, though. Ferguson has done everything that could have been expected of him and more, yet at the first setback is gone.
A month ago the chairman was promising his manager time. As Ferguson contemplates his next move, as well as remembering his father's early struggles he will probably wonder if he would still have a job had Peterborough just missed out on promotion in May, rather than edging out MK Dons and Leeds. Overambitious chairmen deserve underambitious managers.
Philip Cornwall

_________________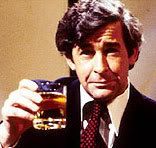 Quote:
Goodnight, thank you, and may your god go with you