The world of literature was reeling last night with the news that Theo Walcott is to write a series of children's books based upon his own experiences as a football prodigy. AGR is proud to present an exclusively not real first extract...
Once upon a time in a land far, far away called Southampton there was a boy by the name of Leo Balcott who was the best footballer anyone had ever seen. The King of Southampton was King Rupert and one day a stranger from a magical land came to see King Rupert and said to him:
"Zees young Leo that you 'ave," said the mysterious and professorial stranger. "King Rupert, I will give you 12 million pieces of gold if you will let Leo come to live at my castle in north London.
"There I can teach him many things including passing the ball, not running around like an 'eadless chicken and even eating magical and exotic foodstuffs like pasta to make him better at the football."
King Rupert thought to himself and said: "Crikey, 12 million pieces of gold. Why, I could buy an enormous amount of polo ponies and champagne with that. Alright then Monsieur, vous avez vous un deal."
King Rupert summoned young Leo into his chamber and told him that he was to go and live with the boggly-eyed French wizard in his north London stronghold (no loud talking on Saturdays).
"But King Rupert," said Leo. "I am well happy here in Southampton learning to do my football. And I am not sure if I would like pasta if I did try it. Here, bent-faced legend Sir Le Tis teaches me how to do being the only good player in the team and afterwards he makes me a cheese sandwich and tells me all about his adventures with the Fair Princess Marilyn from Down Under that has the machine gun jubblies, whatever they are.
"Nonsense, Young Leo," said King Rupert. "This is a brilliant opportunity for me. I mean 'for you'. You shall go to north London with the stern but kindly Gallic sorcerer here."
"But King Rupert," cried Leo. "What about my beloved Melanie who has been my one true love for all my childhood years and lives here in Southampton and is even now working hard on her A-Levels?"
"Don't worry, son," said King Rupert. "The money you'll be on, you'll find any number of birds with their A-Levels up in London, if you know what I mean."
"No sir, I don't," said Leo.
"Never mind about that," said the kindly tactical genius from the capital. "Wouldn't you like to come and live in my castle with lots of other small boys your own age and learn to do exquisite passing and make pretty football all day long in front of a hushed crowd of admirers?"
"I would, sir," said Leo. "I would like that very much."
"Well come on then, young Leo," said the mysterious sorcerer. "Oh, there's just one thing: you'll have to stop kicking the ball in the goal in that vulgar manner."
"Sir?" said Leo.
"We do not encourage kicking the ball in the goal," said the French wizard. "It detracts from the beauty of our magical movement and poetry as we waltz around the greensward."
"Sir, yes sir," said Leo.
"Oh and Leo," said the magician. "You'll have to lose some weight. You can't possibly expect to play the football galumphing around at 5 foot 2 and seven and a half stone."
Leo put down his cheese sandwich and followed the wizard outside. Had he made the right decision?
To be continued (possibly)

_________________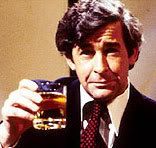 Quote:
Goodnight, thank you, and may your god go with you