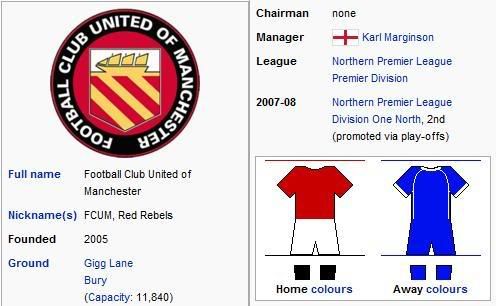 Football Club United of Manchester (FC United of Manchester, FC United, FCUoM or FCUM for short) is a semi-professional English football club based in Bury. The club was formed in 2005 by Manchester United supporters following Malcolm Glazer's controversial takeover which led to thousands of supporters defecting from the club. They are affectionately referred to as "The Red Rebels".
Although the majority of the club's support comes from Manchester and the surrounding area, its supporters club has branches in more than ten countries including France, Poland, New Zealand, the United States and Canada. The local cable television station Channel M began a monthly series of programmes about the club in January 2006. Television crews from France, Israel and the Netherlands have been seen at the team's matches.
FC United's first three seasons were successful, winning promotion each time. FC United entered at the tenth level of the English football league system (the second division of the North West Counties Football League) and they were confirmed as champions on 15 April 2006 and followed that up by being crowned as champions of Division 1 on 18 April 2007. The 2007-08 season saw them finish second in the Northern Premier League Division One North then gain promotion through the end of season play-offs.
During their first season (2005-06), they had a higher average attendance than seven league clubs, including Bury with whom FC United share a ground. It was also the second-highest average attendance in English non-League football. Although attendances have fallen in subsequent seasons, they were still the 100th best supported club in 2007-08.[2]. Their record attendance is 6,023 for a match against Great Harwood Town on 22 April 2006.
The team is managed by the former Macclesfield Town player Karl Marginson.
History
Formation
The club was founded in the summer of 2005 by disgruntled supporters of Manchester United. Although those supporters had various reasons for their dissatisfaction with the club, the prime catalyst for FC United's formation was the hostile takeover of Manchester United by the United States businessman Malcolm Glazer. United supporters had previously considered forming a new club in response to a proposed takeover by Rupert Murdoch in 1998, but the takeover bid was unsuccessful so the idea was not implemented. When it was announced that Glazer was considering taking over the club, the idea was brought up again as a possible "last resort" and discussed in Manchester United fanzines including Red Issue.
The Glazer family obtained overall control of Manchester United on 12 May 2005, and supporters who had opposed the takeover organized a meeting at the Manchester Methodist Hall on 19 May. Although the focus of the meeting was on continuing to oppose Manchester United's new owners rather than forming a new club, the meeting's chairman, Andy Walsh, announced that the formation of a new club would be discussed at a second meeting on 30 May and that Kris Stewart, the then chairman of AFC Wimbledon, had given much advice on setting up the club. It was decided that the club would be formed if 1,000 people pledged financial support by the end of July. This target was exceeded and the steering committee pushed ahead with plans for the club.
A nearby club, Leigh RMI, were in financial difficulties at the time and asked FC United to take them over, as the extra support from FC United would have ensured their club's survival. The founders of FC United refused this proposition because they were creating the club in response to an unpopular takeover and didn't feel that taking over another existing club was appropriate. The clubs remained on good terms, though, and FC United's first public match was a friendly against Leigh RMI.
The club's founders originally chose the name FC United, but the Football Association rejected this as too generic. Those who had pledged money to the club were then asked to vote on a name from FC United of Manchester, FC Manchester Central, AFC Manchester 1878 and Newton Heath United FC. On 14 June 2005 it was announced that FC United of Manchester had been chosen with 44% of the vote. FC United continues to be used as an abbreviated form of the club's name.
Karl Marginson was appointed as manager on 22 June, and the club held trials for players on 26 June. 900 players applied to take part in the trials, of whom 200 were selected to do so and 17 were chosen to play for FC United, although most of those have since left the club.
League history
Season League Pld W D L F A Pts Pos Average Att Notes
2005-2006 North West Counties League Division Two 36 27 6 3 111 35 87 1/19 3,059 Champions
2006-2007 North West Counties League Division One 42 36 4 2 157 36 112 1/22 2,581 Champions
2007-2008 Northern Premier League Division One North 42 24 9 9 91 49 81 2/22 2,125 Promoted via play-offs
2008-2009 Northern Premier League Premier Division 9 3 2 4 15 13 11 12/22 2,152 Finished 12th of 22
2009–2010 Northern Premier League Premier Division 7 38 13 8 17 62 65 47 13/20 1,954 Finished 13th of 20
2010–2011 Northern Premier League Premier Division 7 42 24 4 14 76 53 76 1,961 Finished 4th of 22 Playoffs Runner-up
2011–12 Northern Premier League Premier Division 7 42 21 9 12 83 51 72 6/22 1,947 Finished 6th of 22 Playoffs Runner-up
2012–13 Northern Premier League Premier Division 7 42 25 8 9 86 48 83 3/22 1,835 3rd of 22 Playoffs Runner-up
2013–14 Northern Premier League Premier Division 7 27 13 7 7 58 35 46 10/24 1,657 10th of 24
(Source: Football Club History Database/Wikipedia)
Organisation
FC United is an Industrial and Provident Society. Membership is obtained by paying an annual fee of £10 to the club (£3 for children), but each member receives only one share in the club and is entitled to a single vote at meetings, regardless of the amount donated.
The club has an elected board of twelve members, but has not yet chosen a chairman. Tony Pritchard is acting as chairman until a decision is made.
The club has two full-time employee positions: Andy Walsh as chief executive and Lindsey Robertson. Andy Walsh was heavily involved in the club's formation.
The club's manifesto includes the following core principles:
1. The Board will be democratically elected by its members.
2. Decisions taken by the membership will be decided on a one member, one vote basis.
3. The club will develop strong links with the local community and strive to be accessible to all, discriminating against none.
4. The club will endeavour to make admission prices as affordable as possible, to as wide a constituency as possible.
5. The club will encourage young, local participation - playing and supporting - whenever possible.
6. The Board will strive wherever possible to avoid outright commercialism.
7. The club will remain a non-profit organisation.
The club accepts sponsorship but does not allow sponsors' logos to be displayed on the team's shirts. The club's main sponsor in its inaugural 2005-06 season was the Bhopal Medical Appeal and in season 2006-07 it was the Williams BMW Group.

Future aspirations
In November 2006 at the club's Annual General Meeting, the club outlined bold aspirations for the forthcoming six years[15] including:
• Winning promotion in three successive seasons to take them to Conference North by 2009. (This goal was completed, however due to league restructuring F.C. United have to be promoted one more time to reach Conference North.)
• Reaching an average of 5,000 supporters per home game by 2009.
• Building their own 7,000 - 10,000 capacity stadium, as central to Greater Manchester as possible, by 2012.
• Developing their own training facilities by 2009.
• Starting a women's team for the 2007-08 season. (This has not happened yet).
Results
Winning promotion in three successive seasons was accomplished on 3 May 2008, and they currently compete in the Northern Premier League this season. One further promotion will put the team in Conference North by 2009-10, exactly as planned in November 2006.