Dramatic pictures of Top Gear presenter Jeremy Clarkson deliberately smashing a truck into a wall have been released.
A Top Gear spokeswoman said the star was "quite badly injured" in the stunt, staged, she said, to "see how difficult it was to be a truck driver".
Mr Clarkson has said he emerged from the accident "in screaming agony", with bruises to his leg, back and finger, but has since made a good recovery.
Viewers can watch the high-speed smash on Sunday's episode of Top Gear.
In the programme, Mr Clarkson and his co-presenters Richard Hammond and James May were each given a series of tasks to complete as truck-drivers.
Mr Clarkson was instructed to drive a Renault Magnum lorry through a wall at 56mph - the vehicle's maximum legal speed - at a test track near Milton Keynes.
In a recent Sun newspaper column Mr Clarkson described the smash as his first serious road accident for 31 years.
He said that he had had decided before being allowed on the road, "everyone should be made to drive at high speed into a wall."
He added: "At the moment, teenagers see Bruce Willis driving his car into a helicopter and imagine that you can get out afterwards and still be well enough to punch a baddy in the face.
The presenter said he could not 'walk, talk or think' after the smash
"This isn't accurate. I emerged from my high speed head-on impact in what can only be described as screaming agony. I couldn't walk. I couldn't talk. I couldn't think."
His injuries included an index finger that looked like "a burst sausage" and heavy bruising to his shin and back.
He wrote: "Everyone should experience this before they are given a licence.
"It would let them know that crashes really really hurt and that it would be a good idea to not have one."
Hammond smash
In 2006 Mr Clarkson's fellow Top Gear presenter Richard Hammond was badly injured when the jet-powered car he was driving crashed at high speed during filming for the BBC show.
He recovered and remains a host on the show.
Although an investigation by the Health and Safety Executive spotted failings in the BBC's risk assessment procedures, no prosecution was launched against the corporation.
Speaking about the latest high-speed crash, the Top Gear spokeswoman said: "Before the stunt was carried out a full heath and safety assessment was carried out.
"Jeremy has made a full recovery."
The new Top Gear series begins on Sunday 2 November on BBC Two at 2000 GMT.

_________________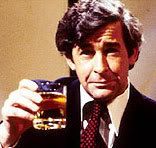 Quote:
Goodnight, thank you, and may your god go with you