A RELIANT Robin driver claimed yesterday vandals tipped his car over TWICE - copying a stunt on TV's Top Gear.
Barry Cloughton, 78, said he believed yobs got the idea from the show hosted by Jeremy Clarkson.
Fuming ... Barry with broken wing mirror
The presenter and Sun columnist was shown on Sunday repeatedly overturning the three-wheeler as he tried to go around corners.
A couple of hours later Barry found his white Reliant had been pushed on its side outside his home.
Police were called and the car was righted but Barry needed attention from paramedics because of the trauma.
Then, at 3am on Tuesday, the louts returned and flipped the car again.
The Reliant ended up with a smashed wing mirror and damaged door.
Great-granddad Barry, a retired heating engineer of St Austell, Cornwall, said: "It might be all a laugh for Mr Clarkson but this is not funny for me."
The Top Gear stunt was first shown in June and repeated on Sunday.
Barry has driven Reliant Robins for 40 years.
Clarkson said last night: "I can assure Mr Cloughton that I did not find my journey in the Reliant a 'huge laugh'. It hurt very much.
"But I did finish the trip with a fondness for the little car and I'm hurt someone should turn yours over.
"That'd be like turning a tortoise on to its shell for a giggle. I hope those responsible are caught soon and birched."

_________________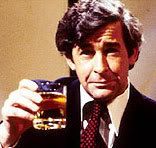 Quote:
Goodnight, thank you, and may your god go with you