for me, the choice is easy, but perhaps not one you'd expect
Red Rum
The horse was bred as a sprinter and even won a 5f race, but he suffered a rare condition, his hooves softened and he kept breaking down. he was discarded and destined for the knackers yard, when a 'tinpot trainer' who had a yard behind a used car lot gave him one last chance. Magically, this was the only man who could have saved him, for he was 'Ginger' McCain, the only man to train on a beach and the Southport surf cured Rummy's foot condition. From that point on, history recorded the greatest steeplechaser there ever was.
In 73, he came up against the 'unbeatable' New Zealander, Crisp.....who ran the field into the ground, he had a 30 length lead as they turned to head out for the second time.... but one horse set out in pursuit, one horse tenaciously chased this Maori giant and from being a distant speck at the Canal Turn, Rummie ran him down, to the roar of the Aintree crowd.
The year after he did it again, carrying 12st 2lbs, he beat L'Escargot
In 75 and 76 he was unbelievably handicapped against Gold Cup Winners like L'Escargot, yet his spirit and indomitability meant he battled to 2nd both years
In 77, Jubilee Year, the year of Star Wars the year Virginia Wade won Wimbledon, Liverpool won a League & Europe Double and United were to deny them a Treble on a sunny day at Wembley. It was a summer to remember and Red Rum started it all off. He was growing old, carrying top weight and young pretenders were snapping at his heels. Completing one lap, the favourite Andy Pandy unexpectedly fell and Tommy Stack seized his chance, Rummie had a date with destiny and only Churchtown Boy could go with him, two from home, Churchtown was out on his feet, hit the fence and fell. Red Rum, 12 years old, top weight would come up the hill the only horse to win the Grand National 3 times. The nation wept, he was a valiant, noble, brave champion, an immortal, his achievement can now, never be matched and his courage never will be.
He ran in over 100 races and was brought down in only one, he was sure-footed, brave, indomitable and having been in his presence many times, I can say, he had a magical air of greatness, that very few do.

_________________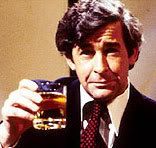 Quote:
Goodnight, thank you, and may your god go with you