According to reports, Man United have a £4million deal in place to sign Crewe youngster Nick Powell. Both Matt Stanger and his Grandad think it's a good move...
For the past 18 months my Grandad has been badgering me about the brilliance of Nick Powell.
As a lifelong Crewe Alexandra fan, his support spanning more than 80 years (I'm not allowed to reveal his actual age), he's seen plenty of skillful players turn out for the Railwaymen. But none, he says, have ever had as much potential as the 18-year-old forward linked with a £4million move to Manchester United.
I have to admit, the first time Grandad sang Powell's praises, I thought he may have had a few too many pints of mild. Given the quality players Crewe have produced in the past, it was certainly a bold claim.
I trusted that Powell was good, but was he honestly a better prospect than Dean Ashton, scorer of 74 goals for the Alex in his first five seasons as a professional? "Yes," was Grandad's reply. Better than Danny Murphy, who helped the club climb into the second tier of English football for the first time since 1896 before leaving for Liverpool? "Definitely." Even better than David Platt, who Dario Gradi snapped up as a teenager after his release from Man United and averaged more than a goal every three games before going on to win 62 England caps? "Yes. Matt, how long is this going to go on for? I'm playing bingo in half an hour."
It was emphatic approbation indeed, from a man who once refused to put one of my drawings on the fridge because I'd accidentally coloured over the lines.
After watching the youngster curl in his first senior goal in Crewe's 3-1 win against AFC Wimbledon in October, I could see that Grandad hadn't been exaggerating, unlike his stories about being voted Mr.Cheshire for ten years in a row during his twenties. Here was a player built in the Gradi ethic. Always with his head up, Powell had excellent control, the ability to dribble past defenders and bags of determination.
"With kids we talk about can you get hold of the ball and can you do something with it. Can you keep the ball? Can you pass and move?" Gradi told the Guardian when he was presented with the Contribution to League Football Award in 2011. In his latest prodigy, Crewe's academy chief - who managed the club for over 25 years - has helped nurture those vital and evident attributes.
An England under-18 international, Powell clearly has a bright future ahead of him. After scoring 14 goals in 38 league matches for Crewe this season, he became the first player to pick up all five of the club's end of season awards, including Goal of the Season for this fabulous strike against Gillingham. When a player is acknowledged as being both the Young Player and Player of the Year, you know he's pretty special.
One man who apparently agrees is Sir Alex Ferguson. After receiving glowing reports of Powell from United's scouts, the manager made a personal visit to watch the youngster in action in Crewe's last game of the league campaign against Aldershot. Again Powell didn't fail to impress, helping his side recover from going behind to secure a playoff place.
And despite a gruelling first full season in professional football, the forward saved his best for last, scoring a wonder-goal at Wembley as Crewe achieved promotion thanks to a 2-0 victory over Cheltenham. With just 15 minutes on the clock, Powell picked up the ball on the edge of the area, before turning superbly and rifling across the goal into the top corner. If the move to United is completed, it will prove a fitting leaving present.
"You can't do what Barcelona do if your players aren't as good as their players. Although it looks easy, to receive the ball under pressure, it requires a really high level of skill," Gradi once said. "Plus you can't teach the confidence, the mental side of that kind of play."
Grandad might hold back from suggesting Powell is good enough to play for Barcelona, but should Man United part with the proposed £4million for the 18-year-old's signature, they will acquire a precocious talent with the requisite self-assurance described by Gradi.
Indeed, just over two months ago Powell was younger than the legal drinking age. On May 27 he was given the man of the match champagne following a sparkling performance in the League Two playoff final. Finishing the season as the Railwaymen's top scorer, Powell has already spearheaded one successful project of building with youth. It's now time to play a part in a second.

_________________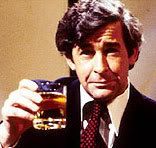 Quote:
Goodnight, thank you, and may your god go with you