It`s A Shame About Nice Guy Ray
There's a lad who works in my local hippy whole food store who is possibly the nicest man on earth. He's always cheerful, remembers your name, always quick with a joke and a smile. The sort of chap that makes you feel that maybe humans aren't all so bad after meeting.
Whereas the typical retail experience in UK is to be met with a puke-faced sourness or a weary, over-bearing sense that all of this serving people business is really too much trouble, this fella goes out of his way to be helpful and to make sure you've got exactly the right kind of ginseng - Korean not Siberian - and he can find the Himalayan Mountain Crystal salt just like that. Service with a smile. He's great.
The fact one man can extract such joy and good humour out of existence is an example to us all.
The problem is, because he's so nice, I find it hard to believe he's always that good-natured. Surely, he must get pished off and lose his rag sometimes? Then I start to wonder if this is all an elaborate façade constructed to make gullible people like me think he's lovely when in fact, he's a devil worshipper and eats kittens. He's just too good to be true.
This is almost certainly way too cynical and suspicious but I can't help it. There is something vaguely unsettling about people who are happy, positive and good natured all the time. Perhaps this is part of every Northern man's emotional inheritance - feeling suspicious at happy people - but I'm sure I'm not alone in this uneasy feeling around the always-cheerful.
I've certainly always felt like this about Ray Wilkins, who was sacked by Chelsea yesterday. Wilkins, when he appears on TV, is simply the most polite and good-natured man in football. I've even heard him genuinely ask after the health of the interviewer before discussing the game. He always calls footballers' young men' and effuses an air of concern for both the morality and spirituality of his club's players. He never seems grumpy, never nasty or overtly critical of others, always reserved and self-contained and ready with a smile to gloss over any awkwardness.
Now, I saw a lot of Wilkins as a player in the late 70 and 80s and he wasn't that nice on the pitch. Butch was, as I recall, a bit of a narky sod who considered a forward pass a sin against nature. He did not radiate a sunny disposition at all, favouring the bulldog with piles expression instead. He was virtually bald by the time he was 21 - surely this alone would make you a very angry man?
All of which makes me wonder if this new beatific personality is a later in life development; something he's grown into as he feels the cold air of on-rushing mortality, or, as my suspicious mind wonders, if its really all a big front and he's the same old narky, crabby arse he used to be on the pitch?
Perhaps he didn't have his contract renewed because he was too nice? Maybe nice isn't what is needed in modern football. Maybe nasty works better. Or maybe behind the scenes Wilkins has been a bit of a swine, kicking small boys and giving Chinese burns to the cooking staff? Who knows? But getting rid of him seems odd especially as they won the league last year and currently sit top of the table, all with him standing beside Ancellotti.
Whatever the reasons behind the decision, it seems likely that it was a decision that Wilkins will have taken with good grace, will have thanked all concerned for the honour to serve Chelsea FC and backed out of the room with smile. But who knows, maybe he is, as we speak, climbing to the top of a building in West London with a powerful rifle, about to make the kind of news that always ends with the words 'before turning the gun on himself.'

_________________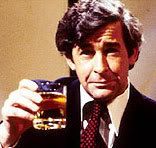 Quote:
Goodnight, thank you, and may your god go with you